Its almost a month since SUGCON ANZ 2019, better than never, here sharing my experience of attending it.
It was my first visit to Australia and overall second SUGCON (after attending SUGCON India in last May). I had a wonderful time at the conference, meeting people and listening to presentations. Fortunately also got a chance to present a session.
If you are a Sitecore Developer, I would highly recommend to attend SUGCON. (It happens every year in Europe, India and ANZ. So you can choose whichever is convenient for you.)
Couple of months back relocated to New Zealand so it was a short trip to attend first ever SUGCON ANZ in Sydney.
Thanks AKQA for giving me the opportunity to attend the conference.
1st Day (26-Aug-2019)
Keynote: Microsoft's DevOps Transformation by Damian Brady
Conference kick started with a keynote on Microsoft's DevOps history, It is good to know that, Microsoft started using Azure DevOps internally for their own projects, to improve the feedback and bring the deployment time down to three weeks. Can watch the session here.
SearchStax: SearchStax is improving their tools to make developer job easy to work with Solr as a Service. They had a small demo of newly built connector to seamlessly connect to Solr service directly from Sitecore Content Editor.
Sitecore JSS in production & at scale – key learnings by Alex Shyba
This was one of the session, i was very much looking forward to. Alex shared his experience on JSS and how JAMStack is going to be the next evolution of headless. Can watch the session here.
Accelerate your development team with Docker by Gitesh and Rey
Containers, Containers, Containers.. current buzz word and very hot topic. Gitesh and Rey explained what is a container, usage, shown us a demo about how quickly we can spin up Sitecore in docker. This will reduce the local project setup time drastically. also no more saying from Developer, "It works on my machine" :), as we can replicate the local same way as higher environments. Also small demo on running Sitecore containers on Azure Kubernetes.
Too Fast, No Furious (Visitors) By Jason Woods and James Hirka
My previous role was Solution Consultant at Sitecore Professional Services. So, I can relate to the points raised by Jason and James. The Importance of performance and why it is recommended to follow best practices. Can watch the session here.
Scaling quality with acceptance testing during development By Felix Lawi
Another informative session, this time from QA team point of view. How to scale the QA team by introducing automated acceptance testing. So that when new features are introduced, whole system is thoroughly tested for any regression issues.
Day 2 (27-Aug-2019)
Couldn't attend lot of sessions on Day 2, as i was busy with other works as well as making few final touches to my presentation.
Rock Star Research by Kevin Wilkins
This was first session in the morning, Kevin taken us through his journey in Music industry and related that to how important research is in all aspects.
Some of the Key points:
Know who to talk to
Go the extra mile with your research
Try to access as much research as you can
Walk in the shoes of your customer
Look for hidden or historic insights
Look beyond common assumptions
Simplicity can be hard to design
Personalisation is so cool
Can watch the session here.
Sitecore Horizon: The future of content editing by Rob Earlam
It was nice to see how content editor used to be in previous Sitecore versions (4, 5, 6) which i had never worked on. Rob explained how the new generation of content editing experience is coming in Sitecore, aka Horizon and how it will help the content authors. Tried to show us a demo of it, but looks like demo gods weren't happy that time, didn't work as expected. Can watch the session here.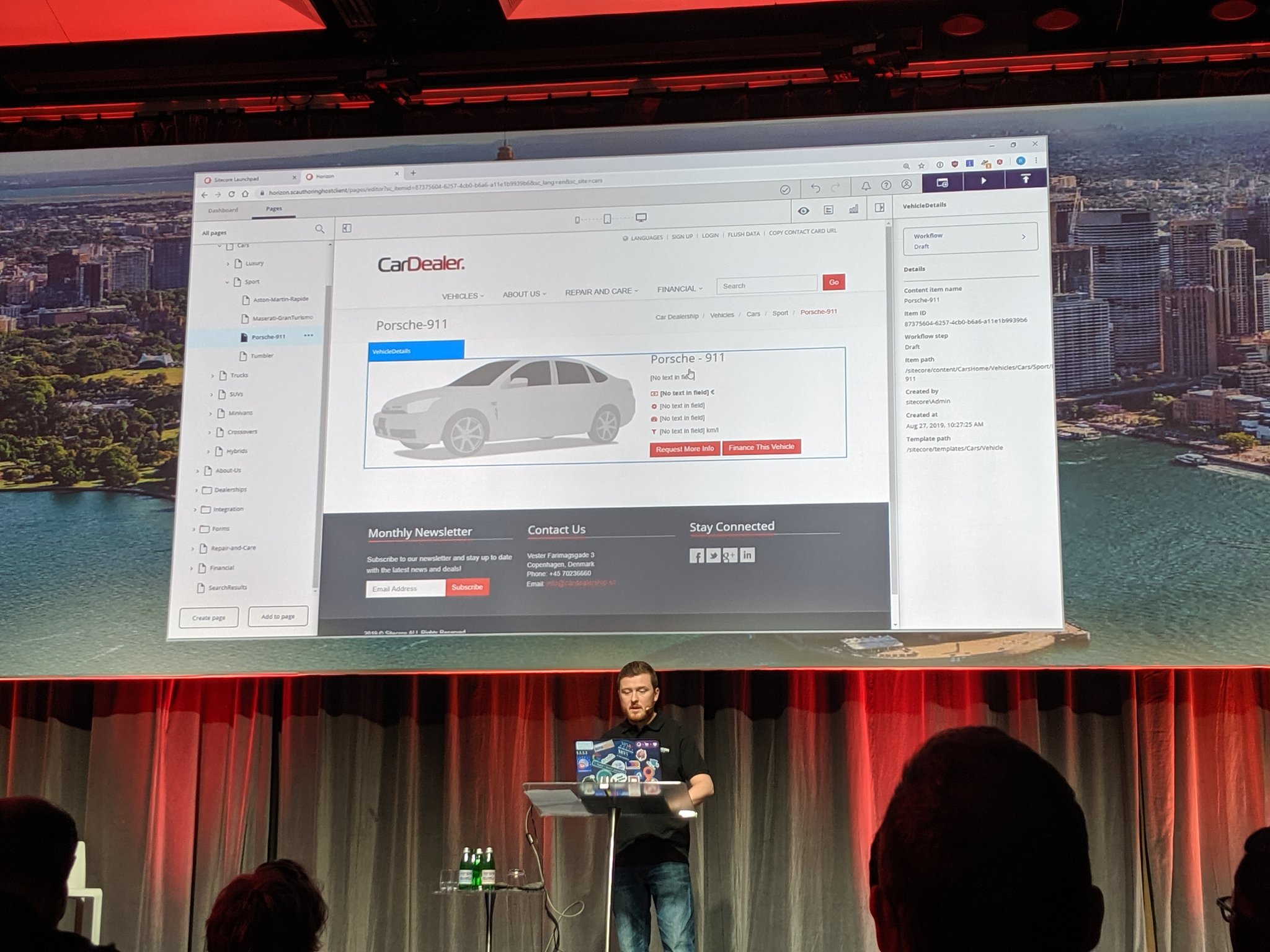 Sitecore JSS + ReactJS – Development Workflow in Practice by Angel Chuang
We are seeing the JSS sample projects from some time now. But it is beneficial to see experience of a team building full fledged JSS application for a client. Angel has shown us the journey, ups and downs (Sitecore support tickets :)) Can watch the session here.
Closing Keynote:
Organizers did a splendid job, putting together a great conference and nailed it first time itself. Also thanks to all the sponsors and participants without them, this event would have been not possible.
Looking forward for next one in Melbourne – SUGCON ANZ 2020
Also when i was in the town, got an opportunity to visit Sitecore office
Highlights for me:
Meeting Akshay, Mike, Tamas and other community rock stars
Presenting a session
Met my ex-boss Vinod (never had a chance to meet him in-person before).
Get to meet lot of people in-person compare to knowing them online.